Winter 2001-02 - New Years and Beyond

Right after Christmas we had an unofficial high school reunion at the Brewing Company in Willoughby: Jeff, dunno, and Jamie.

A couple of Bobers: Jamie and Leah.

Al! It had been a long time since I had seen some of this crew.

For New Year's Eve Becky earned some dough playing at the Radisson in Willoughby. Vito and I stopped by to watch her work the crowd.

New Year's Eve party at MC Bradford's house here in Mentor. As usual, good time had by all: Julia, Beth, and Mandy.

The three amigos: Jeff, Brad, and Gary; or Leake, Steiner, and G; or openJL, Maximus, and Baal; and on...and on...and on.......Will the house of technology come to fruition??? Only time will tell.

The New Year's Eve salute.

A little bit of the bubbly!

That would be the couch at Brad's house. How I've come to know and love that couch......mmmmm.....cryosleep..........

G!

Out in Willoughby a few days later at 1899: Jeff, Hollie, Becky, and Vito.

Chillin': Hollie, Vito, and Becky. What's wrong Beck?

Not a good combination: Gary and Brad plus alcohol.

A couple weeks later Crystal came to visit from New Mexico. We headed up to Peak 'n' Peek that Thursday for her maiden ski voyage. I have to say, I was quite impressed. Ahh....that was funny... I mean fun!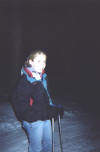 Now let's see you go DOWN the hill: left turns only.

No, this picture is not upside-down. Jenn, this one was for you. Okay, for me, too.

Showcasing her "winter coat". Pathetic. It was like a wind breaker.

That Saturday night we headed for the Hanna Theatre to see Tony 'n' Tina's wedding. And no, it's not really a wedding, though it takes a while for some to catch on. This picture is of heads during the ceremony.

And then lo! the curtain rose to reveal a sweet yet corny fusion jazz band in the reception area of the play.

The backside of the ringleader of this circus.

One of my good buddies from high school, Tony (believe it or not), had a main part in the play. Here he is on the left.

Wouldn't be a wedding reception without dancing. Though I managed to avoid most encounters with the cast dragging people up, Crystal was not so lucky. Can't imagine why.

Toward the end of the play: Tony with his shirt off (his character was quite flaming). Hmmmm....dancing....shirts coming off.......where have I seen this before.........4...0......2.......A......hmmmm
End of the play, Tony somewhat reclothed.