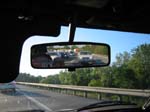 Heading into Chicago on I-294, heading to the Bobeczkos.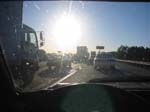 And I quoteth: "rush hour ends early on Friday." I never really fell for that one, so the delay was pretty much expected.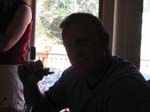 Saturday before the Cougars game, cooking out at John and Carrie's. Greg with his creation: jalapeno peppers stuffed with sour cream or shredded cheese and a smoked sausage, and wrapped with bacon. They were good...but some of them HOT.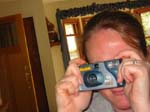 Kristin taking a picture, evidently.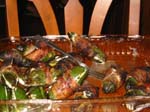 Hot...but GOOD.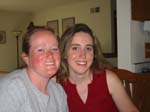 Kristin and Liz.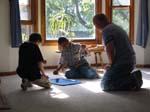 So John and Carrie's son and his buddy had these Bey Blades. Think of them as battling tops. Greg and myself were instantly hooked. I could see people getting to the point they throw money down on these things. Best of all, you can "mod" them to improve their defensive/offensive strengths. I think Greg is currently working on building the ultimate Bey Blade.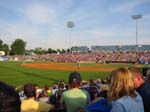 At the Cougars game, a perfect night. They're a minor league team just up the street from the Bobeczkos.