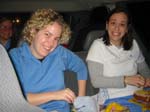 Riding along in our automobile, from the airport to Homosassa Springs and its Manatees: JoAnna and Kristen making sandwiches. We made a good team; they made them, and Mike and I ate them.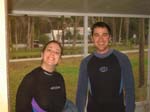 Saturday morning, Kristen and Mike gearing up to go hunt...errr...dive with manatees.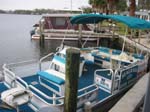 Our trusty vessel for the day. Arrrr!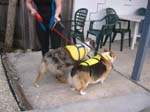 Pixie and Dixie accompanied us, lifejackets and all. Notice the handles for easy extraction.