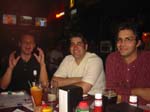 At the Winking Lizard in Coventry. Gary and Co. were in town visiting: Brad, Gary, and Mike. 3/4 of THOT, if my math holds up.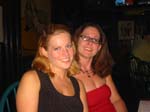 The Johnsen sisters: Kristi and Cheryl (a.k.a. Mrs. Krasovic!).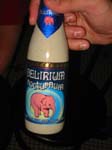 I dunno...something about a "Deliriium Nocturnum" beer along with a cute little elephant...I had to get a picture.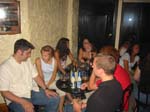 At the Wine Cave in Conventry. Going around the table: Gary, Mandy, Kelly, Cher, Harry, and Brad.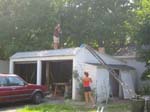 Putting a new roof on our garage on Hathaway: Mike and Kelly. Yes, I import my labor from California. Ahhh...it's good to be the supervisor. Aw, and look at Mike waving. He likes his supervisor.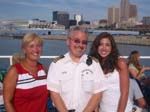 The next Friday on the Goodtime III (my first time on it, actually): Kim, the captain, and Kelly.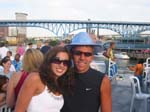 Kelly and Al. Al borrowed the hat from a guy with the suit to match.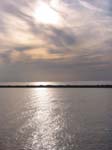 Looking lakeward: sky and water.