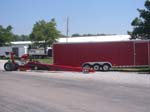 Track day at Norwalk, invitation only. There was some mighty mean cars there. This rail dragster made a run or two....mid 7-second quarter-mile, I believe.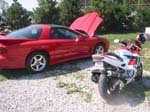 Jim and Jeff's rides: the WS6 and the F3 playing nice together.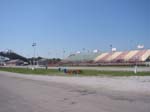 A view of the track and grandstands that day. It was beautiful out.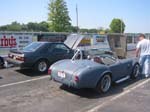 Mike's Mustang and Big Dave's Cobra replica cooling off before running.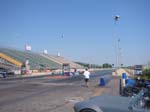 Looking down the track. I believe that's the host, Gus, right there.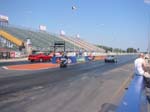 Jim on the left and Dave on the right, lining up. Jim ran a 12.78 and Dave a 12.22 that day, if I recall correctly.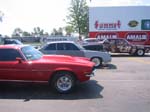 Some classics.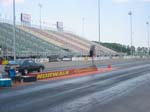 Mike launching. Not sure if his front wheels are up here or not. He ran an 11.70'ish that day. Unfortunately, Turbo (actually Super, at this point) Mike blew a head gasket. Luckily, he can swap them out like some people change clothes.