I flew into Pensacola on Thursday the 12th. Jenn and Mike live in Navarre.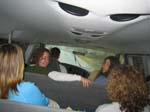 Friday, driving to Homosassa to see the manatees: Craig at the helm, JoAnna, Marni (Jenn's co-worker), Julie, and Jennifer.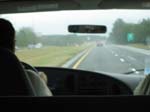 Commander Craig holding true to course.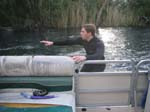 Early Saturday morning, out on the river where the manatees reside in the winter months. You haven't lived until you've barefoot skiied off the side of a pontoon boat.