Fall Quarter, Senior Year (1998)

Kristen and Jeff Halloween weekend in our apartment.

Erin and Makayla in the foyer, awaiting the arrival of the Miami Synchronized Swim Team.

Here's the MU Synchronized Swim Team heading down the stairs to Court St. to join in the festivities. The ones I recognize are, from the left: Rick, Jason, and Dan.

The guys actually gave our apartment its own private performance just below on Court St. Needless to say, the routine was hilarious. Though tough to see, in this picture they are lined up single file in preparation to begin their dance.

The MU Swim Team lingering on the sidewalk before heading up the street to where the real action was.

Here's a practice session that night behind 10 S. High. *

Dan in front: they had to get things just right. *

On Court St. *

Brad and Dan. They could not have been too warm. *

Bednar up by the band stand. Snorkel's a nice touch. *

Party in 402A during Halloween weekend at OU. Tom and Monica dancing on the table as Jake, Tom's friend from home, looks on.

Halloween at the apartment: one of the Beastie Boys can be seen on the right.

More use for the table: Tom and Monica still dancing.

Kristen, Eleanor, Heather, and their friend lurking in the doorway.

Another view of 402A that Saturday night.

Once again, the apartment. I don't know who that is on the table, but the poor kid was just taken advantage of that weekend.

Tom, Rachel, and Nikki dancing, where else, but on the table. For more pictures I took of Halloween this year, go back to the Pictures Page or just click here: Fall Quarter, Senior Year (1998)

Johnny, Mike, and Garmon. *

Rick, Bo, Carlos, and Neal at Josh, Mike, and Adam's place. *

Dan trying to steal a kiss from Alina (or is it the other way around?). *

Mike and Neal. *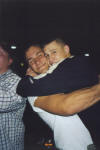 Bednar and Caruso. Now that's cute. *

And here are the Black Widows, the broomball team masterminded by Kellie Jorris who, besides misspelling her name, can play a mean game of broomball. Sadly, the team was actually named after a drink at the Pigskin (actually, THE drink at the Pigskin). Now, when Kellie asked me to be on the team I said yes thinking it as just a big joke. I would soon find out differently.

And an action shot. Out of 70 teams we made it to the finals as seen here.

Josh and Jeff seeing some action on the ice. Now let me tell you, I had no idea broomball was an actual sport, much less so competitive. But believe me when I tell you that the girls from Toledo had been playing for years and took it very seriously. Invariably, that rubbed off on the rest of us, who happen to be naturally competitive in the first place.

With Kellie playing in the forward position and Kara as a defender, I believe we were the baddest team out there. Kellie's finesse on the ice accounted for numerous goals while Kara's tenacity on defense was a wall through which none could pass. Honestly, I had not idea broomball could be perfected to the degree the girls exhibited. And Jeff (not me) and Scott were also broomball veterans that were formidable in goal.

Josh jockeying for position in attempting a steal. Great story about Josh: one team we played was pretty rough and one of the kids actually pushed one of the girls on our team down. No penalty was called, but in Josh's mind one had been committed. So, surely enough, next time that kid had the ball Hubox gets a head of steam and puts him into the boards. It was one of the funniest, not to mention loudest, things I have ever heard. That particular demonstration was called as a foul, though I think the point had been made. No bones about it, it can get rough out there.

Another shot of the ice. If you ever get a chance to play this sport, do it. But I recommend knee pads!

Typical formation for a face-off. Unfortunately, we went on to lose this finals match 2-1.

But we still managed to celebrate at the Pigskin afterward. It was a Monday night, so no Black Widows were consumed, but we did stop by for a few beers kind of as a homage to the Pigskin.

10. S. High decked out for Christmas (complements of Dan). *

And, of course, stockings hung by the chimney. Something tell me this was Dan's doing, as well. *

New Years Eve: Dan and Autumn. *

More New Years: Dan and Neal. *
* contributed by Dan Bednar