Spring Quarter, Sixth Year (2001) - PalmerFest
For more pics of PalmerFest, Click Here.

Jeff and Mark (a fellow civil engineering major) at PalmerFest, pausing for a picture. As you can see, he also came prepared.

Leake and Huck at Palmer. Huck's also an aspiring civil.

Two lone fingers and a microphone.

Chetta and Jeff. She made the trip down from Columbus.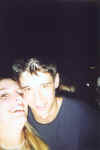 Someone got a hold of my camera. ??????

Nate and Jeff with their heads cut off, but we managed to hang onto our beers.

I ventured away from our spot to check out the scene up by the stage. The band Guest playing with Ruby jamming on the keyboard.

Guest put on a good show, people were going nuts by the time they were done.

Another shot of Ruby on the keyboard.

Looking back from the vicinity of the stage. Stuff started flying right about now. Beer bottles, cans, chairs, couches, you name it. Then the moshing began and this camera man headed back to home base and a fresh beer.

Back by the gang: Ali, Anne, Ryan, Tom, and Ryan hanging out.

Looking toward the stage from our spot.

Leake and Enright at Palmer. He made the trip up from Washington D.C. for the affair.

Again, looking up toward the stage. Red Wanting Blue was playing and people were getting crazy, throwing all sorts of stuff at the band members. The lead singer was using a baking sheet as a shield while he sang. Evidently, Red Wanting Blue had previously knocked PalmerFest and the people that showed up for it. Then they ended up playing it and people were not too happy with them.

Our old spring break buddies: Jeff, Jessica, and Alberto.

Here's Luke drenched in beer. He actually dumped a full beer on me at one point that night. I proceeded to tackle him, and then he kicked my ass.

Here's Luke fresh after getting doused himself. Bednar and Garman looking on.

Darkness. I ended up going uptown soaked in beer and muddy. No scruples, I know.

Ryan back at the homestead. Poor little guy was all tuckered out.

Sunday morning Mike stopped by before heading home. He made the trip down from Chesterland, OH, near my hometown of Mentor. It had been a while since we had gotten together.

Me.