Spring Quarter, Sophomore Year (1997)

And Hussle-T in Treudley on the eve of his 20th birthday.

Eight is enough. Clockwise from left: Chetta, Amanda, Ryan, some kid I don't know, Tanya, Cara, Jill, and a friend of theirs.

Again the group of us in Treudley: Tanya and friend in front, with Amanda, Chetta, friend, Jennie, Ryan, Jill, and Cara in the back. I can't make out what Amanda and Chetta are doing here.

Another group shot, as seen from upon high: Amanda, Jill, Cara, Ryan, Jennie, Chetta, Jeff, and two of their friends.

Jill and Cara, rocking out.

Presenting our room: 253 Sargent.

Josh, Ryan, and Mike hanging out in Sargent.

Up to no good.

Josh, Chique, Rob, and Jeff: all 2nd floor Sargent boys.

In the room across the hall, with the infamous 18", 500 Watt subwoofer: Chique, Jeff, and Rob in the back. Keith and Huss in the front.

Ninja.

Josh and Jeff, toward the end of sophomore year.

A good shot of where we spent much of our free time: Boyd Beach on West Green, where everything from Frisbees to footballs, and stereos to Slip-n-Slides could be found at any given time.

A little get-together in 253: Amanda, Chetta, and Tanya visting from Treudley Hall.
Amanda, Jeff, and Neal.

Chetta and Tanya singing it.

Jeff and Jamie, also a resident of Sargent.

Chetta and Jeff.

Tracy and Jeff. Tracy moved to Florida after sophomore year.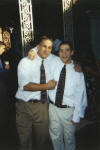 Dan and Brad. *

In Ryors: Dan, Collin, Casey, and John. *

The view from the end of the hall in Ryors looking out on West Green. *

Dan getting freaky. *

Harvey and Bednar at, where else, Pawpurr's. *

Dan and Neal outside the Union. *

Rachel, Cat, Collin, Julie, Nikki, and Darlene. *

Rachel and Darlene, looking a bit scared. *

Nice shot of Boyd Beach, where we spent quite a bit of time on nice days. *

Missy, Jenny, and Rick catching some rays. *

Can't imagine why we spent so much time out there. *

Ruby and Dave cleaning out their dorm room in Ryors. *
* contributed by Dan Bednar